Cell
has given me interest in the that genre. The campus library doesn't have any books by Neal Stephenson, a "god" as one of the characters (a kid) in
Cell
says, so I checked out
Holy Fire
by Bruce Sterling. If I like it, I may continue on with cyberpunk. Being somewhat of a technophobe, I may like (or may not, lol) some of this stuff. I've read a good bit of classics over the years and now I it looks like my reading may shift gears a little.
My technophobia is necessarily not a fear of technology (I would not characterize myself as a Luddite) but rather a fear of what people, average people and people in power, including, governments, will do with it and the inevitable overdependence people develop. And, yes, I know, I myself am guilty - I like the Internet, computers, electricity and running water to my home, automobiles, etc. That being said, I don't own a GPS device (a cell phone is close and can track you but not like GPS although many have that feature available now) because it's all too creepy and completely unnecessary; at least for most average people. Maps and a basic knowledge of the US highway system are good enough and, well they used to be at least, idiot-proof. Ok, I'm going off on a tangent too much here. This topic best served for another day.
By the way,
Cell
is the first Stephen King novel I've read. It's an easy read and does pretty well in the horror category.
[ 5 comments ]
( 1435 views ) |
permalink
---
[ add comment ]
( 804 views ) |
permalink
---
This time, it also took out a laptop PC and the PCI slots on the motherboard of my main PC along with the NIC. Good cards no longer work in any PCI slot so now I have to to use the onboard LAN. Of course, everything, save the router, was plugged into a Belkin surge protector, which still works. The router shared an outlet with my PC speakers, which still work too. Lightning is funny and I don't mean ha-ha funny.
[ add comment ]
( 1444 views ) |
permalink
---
[ add comment ]
( 797 views ) |
permalink
---
Running a 5K on Memorial Day gives one time to remember and reflect, which I made sure to do. Memorial Day seems to have lost some meaning which is why I agree with this
editorial
. I think a fixed date is more of a sign of respect than a flexible date that is meant to give us a three-day weekend.
I don't know what men and women who have died in combat would want us to do on this day. I think that many of them would like us to like our lives as we do and be thankful for what we have. So it's ok to picnic and enjoy time with friends and family, as long we do not forget them and be grateful for what we have. Often, I think more of the families of the fallen; the void in their lives, the hardship; the grief. I made sure to take time to reflect on that as well.
Update
- the official results have been posted online and they have me at 33:28.55. Looks like for my next 5K I will have to strive for breaking 33:00.
[ add comment ]
( 904 views ) |
permalink
---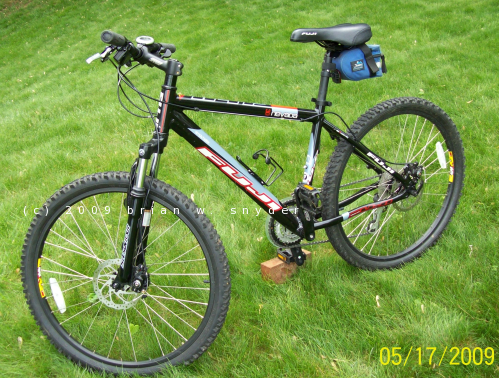 I finally took a picture of my bike. Our camera was broken and we finally got a new one. So, pictured is my bike at about 200 miles; not bad for six weeks. Likely I'll put on more as the weather warms and I am less busy. I am toying with the idea of biking in the
Bike-a-Thon Philadelphia
in July. I would need to put road tires on it to do that though. If I do enter it, I would like to try the 54 mile option. The 21.3 would be easy and require no extra preparation but the 54 would. I would like to do a smaller one 20-30 mile first as prep so maybe one day in a month or so I'll be able to get away for a few hours and try a 25 miler on my own: pack a snack, basic tools, cellphone, and vamoosh!
[ add comment ]
( 918 views ) |
permalink
---
Bike to Work Week
and May happens to be National Bike Month. So, I did it today; I biked to work. Since I just had to administer a final exam, I loaded up my backpack with the basics I needed. The commute was a mere 11.5 miles round trip which is easy, but the roads, the roads - belong to the cars. Some parts were wide enough with a shoulder and some the shoulder was pockmarked with holes and craters and eroded blacktop. I took the back way but one stretch, closest to the college, was the busiest with traffic and there was little leeway on the sides. I prefer the bike paths, for sure, but the bike path doesn't lead directly to the college. But, I did enjoy the ride - any excuse for me to get on the bike.
I plan on doing this once a week during summer - late May to early July. Good for the body. Use less gasoline; I figure about half gallon's worth, which could save me as much as $2 a week. Good to do my part for a greener earth (I do much more than bike, BTW). More people should bike to work if distance permits and, if for nothing else, to take better care of their bodies.
[ add comment ]
( 1116 views ) |
permalink
---
[ add comment ]
( 883 views ) |
permalink
---
update
(11pm 04/05) - I did 17 miles on the bike today. Mostly paved bike path but some gravel and some dirt and mud too. In gears 3-7 and 3-8 the chain rubs a little in the front. Getting into 3rd requires holding the shift lever a little longer but it's not anything major. Other than that, everything went fine. I didn't bottom out the fork but it looks like I maxed out around 1.25 inches or so judging by where the dust ring begins. I like it. My legs are sore. When I do a 30 or 40 miler this summer remind me not to do a 5K the day before.
[ add comment ]
( 1341 views ) |
permalink
---
[ add comment ]
( 1332 views ) |
permalink
---
Weather looks favorable - low of 40 Friday night so that means probably high 40's to 50 or so at race time, no rain in the forecast either.
So, I am definitely ready. My goal is to complete it in under 37:00.
[ add comment ]
( 909 views ) |
permalink
---
[ add comment ]
( 911 views ) |
permalink
---
<<
<Back
| 10 | 11 | 12 | 13 | 14 | 15 | 16 | 17 | 18 | 19 |
Next>
>>