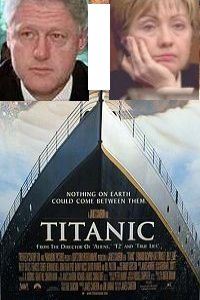 ---
-10 points for tedious, unfunny, done-to-death Clinton-bashing
Grand total: 0 points.
Besides, with all this hatefvl kold pvre elitist raw mysantropik norsk necro arisk hedensk pagan winter weather we're having, the ship would hit piddly lilla is-cvbes at best, not anything like an iceberg of days gone by...
---
---
Just think, not only will Hitlery Klintoon spy on your phone conversations and emails, her estrogen-steeped circle of close friends will soon churn out loads of gossip about your repressed homosexual tendencies and soon every man and his brother will know.
---
---
---
---
My blog. My rules.
Ok, go ahead and alienate your readership.
---
---