Amazing!
[ add comment ]
( 1311 views ) |
permalink
---
I wonder how many bars in Extended Metro Philadelphia turned off a Flyers game in the Stanley Cup finals to watch baseball.
I am completely stunned.
Here is the bottom of the ninth inning with the Phillies broadcasters:
[ 1 comment ]
( 1390 views ) |
permalink
---
The winner wins the Big East and may go to the Orange Bowl. The line has Cincy a two point favorite with the over/under at 58. A Pitt win today will give them double-digit wins for the first time since 1981. A win today would be one of the biggest wins in school history and even bigger than upsetting #2 WVU two years ago in Morgantown when WVU was a 29 point favorite and a win away from playing in the national championship game.
It's a nationally televised game so I will get to see it.
My pick: Pitt 27, Cincy 24.
Hail to Pitt!
[ add comment ]
( 1205 views ) |
permalink
---
The sentiment was also that a freeway series was guaranteed. <Alex Trebek voice>Sorry</voice>
I don't see the Angels as having a chance to come back and beat the Yankees so it's likely going to be a Philly-New York series; a Jersey Turnpike Series. The Yankees aren't going to be a pushover like the Dudgers were though. It should be a good series and I think it will go to seven games.
Phillies fans have been spoiled of late as they've won 16 of their last 20 playoff games; they've only lost one game in each playoff round going back to last season, coming in at 18-5 in that span. The Yanks may very well give them three more - and hopefully no more than that.
Re-peat. Re-peat. Re-peat. Re-peat. Re-peat. Let's go Phillies!
[ add comment ]
( 2068 views ) |
permalink
---
Eagles 27, Cardinals 24
Ravens 20, Steelers 16
Seems like the consensus is that we are going to see a Turnpike Superbowl. I don't think so.
[ 1 comment ]
( 1477 views ) |
permalink
---
Left house at 4:20 am
Arrive at Philadelphia Int'l Airport about 5:55
Park, get shuttle to terminal, get to gate at 6:20
Board plane for Pittsburgh at 7:05
Plane leaves 7:29
Arrive Pittsburgh 8:30
Meet my ride, grab a coffee at McD's
Arrive Heinz Field about 9:35
Meet friends for tailgating 10-11:40
Walk to stadium, enter, go to my seat 11:40-12:00 (kickoff was about 12:10)
Watch Pitt beat WVU, 19-15
Meet friend outside stadium for ride back to Airport
Arrive at gate at 4:45 pm
Board plane at 5:10
Take off for Philadelphia ~5:25
Land, exit plane in Philly about 6:20
Get shuttle to car, get on Schuylkill about 7:00
Drive towards home, stop one township over for another friend's surprise birthday party 8:45 (someone I haven't seen in about 15 years)
Home by 10:30 pm
Long day.
Pitt played well for the first 3 minutes and the last 8 with 49 minutes of futility in between; moved the ball ok but couldn't score - scored on opening drive and then twice in the last 8 minutes. Game was capped with an exciting finish: Pitt scores with less than a minute left to take a 19-15 lead but WVU got the ball back and got to about the Pitt 20 for a 4th and 1 pass play, as time ran out, that ended with an incomplete and an offensive pass interference call. Game over. (And worth the trip).
[ add comment ]
( 1377 views ) |
permalink
---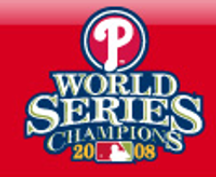 Phils Win! Phils Win! Phils Win! Unbelievable! YAHHHHOOOOOOOOOOOOOOOOO!!!!!!!!!
[ add comment ]
( 1219 views ) |
permalink
---
2. Wisconsin over PSU this weekend. (Yippie!)
3. Phillies over the Dodgers in six. Boston over T.B. in five. Phillies need to get those bats working again but I think they are the better team and will step it up notch to combat the hot Dodgers. Rays' dream season will end facing the team of the decade.
4. I predicted this in August but don't think I blogged it: Eagles 9-7 this year.
[ 1 comment ]
( 1295 views ) |
permalink
---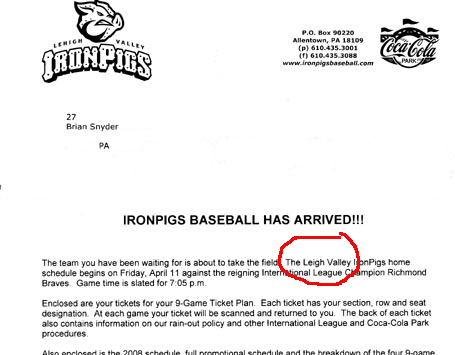 Oops! I meant to buy tickets for the Lehigh Valley IronPigs, not the Leigh Valley IronPigs!
[ 1 comment ]
( 1477 views ) |
permalink
---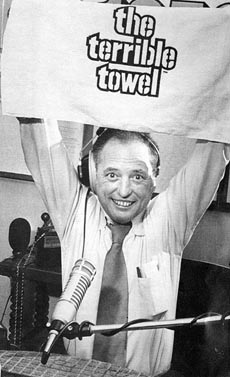 Fellow Pittsburgh alumnus Myron Cope
has passed away
. A local legend, Cope was an integral part of Pittsburghcana. Outsiders may have found him hard to bear but, just as I did as an outsider, I learned to appreciate the man and understand how much he meant to Pittsburghers. He was truly one of a kind and his golden voice and witty perspectives will sorely be missed. yoi!
[ add comment ]
( 1382 views ) |
permalink
---
Foge Fazio
and
Jamie Dixon
amongst others who were probably also fairly prominent in the local sports or business scenes. Foge sat in front of us and we chatted often during the course of the second half. Coach Dixon was on the other side of the suite engaged in conversation but I was able to sneak in a quick "Coach Dixon, best of luck for another good season" and shake his hand. Coach Fazio is very personable and my friends and I had quite a pleasant time engaging in the normal chatter people engage in while watching a football game. I was never formally introduced to Foge and it wasn't until after the game I discovered it was him.
The stadium only provides the box. The catering staff, which included a chef, and food are hired by the box's owner. The spread included crabcakes, coconut shrimp, ham, prime rib, and other fine foods. The drinks included the usual beer and soda, 12-15 bottles of the most popular types of liquor and some wine. My friend suggested I have a glass of wine and I declined but when he told me
what it was
, I changed my mind. I couldn't resist drinking a glass wine that costs $200 a bottle. There was more than one bottle of it on the bar too.
I never thought I'd encounter, certainly not within an hour, a former Pitt football coach, the current basketball coach, and get within about four feet of Coach Wannstedt on the sideline. Actually, he got close to me as I wasn't about to intrude on the team's space but as the course of the game dictates, the head coach does have to traverse the sideline quite a bit.
Pitt played well during the first half and led at halftime 14-10. Once we left the sideline and went upstairs, they fell apart. The final was 48-37 USF with USF getting two scores directly off interceptions and setting up a third with one too. Aside from the Pitt-PSU game in 1987 (Pitt won 10-0) yesterday's game was the most memorable but more for the extracurriculars.
Some other notes: it's 287 miles from the Sheetz in Monroeville to my house. I got on turnpike in Monroeville at 5:05 and I was in my driveway at 9:45. I made two quick stops and went through the Wendy's drive-through in Carlisle.
Certainly a fun experience and something I didn't expect as I didn't know I'd be able to use an all-access pass. I won't be able to sit in my regular seats again!
[ add comment ]
( 1434 views ) |
permalink
---
| 1 | 2 | 3 | 4 | 5 | 6 | 7 | 8 | 9 | 10 |