[ add comment ]
( 1235 views ) |
permalink
---
Obama criticism shuts down conversation
She brings up some good points. The right of dissent and the right to criticize seems to be so 2001-2009ish nowadays. Maybe it's apathy. Maybe it's fear. Maybe it's because people are afraid to admit they were wrong. Although, there were some protests on April 15 but the media mostly bad-mouthed those who attended the rallies as if those who attended were uninformed crazies who had no right to peacefully assemble and petition the government for a redress of grievances. [sheep bleating] Protest Bush good protest Obama bad [/bleating]. Additionally, it does seem that gaffe-a-day Biden gets his fair shake when he puts his foot in his mouth, which explains why you really don't see much of him on TV. And, he
got the boot
for his last gaffe. lol.
O
ne
B
ig
A
ss
M
istake
A
merica
There.
:P
[ 2 comments ]
( 1833 views ) |
permalink
---
Swine flu may be less potent than first feared
No kidding. Just like SARS, Bird Flu, Killer Bees, the coming Ice Age, Global Warming, and so on. *yawn*
[ 13 comments ]
( 1397 views ) |
permalink
---
Runnersworld.com
and thought it was amusing:
[ add comment ]
( 1346 views ) |
permalink
---
Obama Bows To The King Of Saudi Arabia
Boy, the gaffes keep coming. BHO and Biden must have bet going as to who can commit the most gaffes. First, it's DVD's that won't play in Great Britain in exchange for a symbolic and sentimental gift that signifies America and Great Britain's close ties and rock-solid friendship, then it's calling America arrogant, now this: an American President bowing to a foreign leader. Geez. Someone get this guy a protocol aide. His protocol aide must be the same numbnuts who went to a Wal-Mart in the States to pick-up the DVD's for Prime Minister Brown.
The media built this guy up as smart, suave, and the panacea for all that ails us. Yet, we got a President who's bound to a teleprompter, insults Americans when abroad, and gives childish gifts to foreign leaders, and bows to the leader of Saudi Arabia. Talk about a false idol.
Again, if Bush had done this - especially to a leader of an oil-rich nation - the American MSM would be all over this; citing it as proof that he's in the their back pocket. But Obama? Free pass; he's irreproachable. We built this guy up and we ain't gonna tear him down, even if his behavior abroad irreverent - which would be fine if he weren't an elected official, and not just
any
elected official, at that; he's our representative to the world.
[ 8 comments ]
( 1905 views ) |
permalink
---
update
(11pm 04/05) - I did 17 miles on the bike today. Mostly paved bike path but some gravel and some dirt and mud too. In gears 3-7 and 3-8 the chain rubs a little in the front. Getting into 3rd requires holding the shift lever a little longer but it's not anything major. Other than that, everything went fine. I didn't bottom out the fork but it looks like I maxed out around 1.25 inches or so judging by where the dust ring begins. I like it. My legs are sore. When I do a 30 or 40 miler this summer remind me not to do a 5K the day before.
[ add comment ]
( 1684 views ) |
permalink
---
[ add comment ]
( 1684 views ) |
permalink
---
Obama's DVD gift to Brown - it's the thought that counts
...pretty lame gift, especially from one who's supposed to be an intellectual. Some DVD's and a few toys
for a pen holder carved from the timbers of the sister ship of the one the White House desk is made from and a first edition of a seven-volume biography of Winston Churchill, the Mail is appalled that "Barack Obama, the leader of the world's richest country" gave Brown a box set of 25 DVDs
and
giving the Obama's daughters Top Shop dresses (with matching necklaces)
If Bush had committed this egregious gaffe CNN, MSNObama, ABC, and CBS would have covered this 24/7 and ranted on how he insulted our biggest ally. All news about the economy would have been tabled so as to stoke ire in the American people about a president who thinks only of movies and toys. But, since this was Obama, there was very little mention by our ass-kissing, tingle up my leg, inept, incompetent, and feeble media.
Oh, and by the way,
THE DVDS DO NOT WORK IN GREAT BRITAIN
.
IF BUSH HAD DONE THIS WE WOULD HAVE HEARD ABOUT IT FOR 60 DAYS STRAIGHT.
[ add comment ]
( 1491 views ) |
permalink
---
Weather looks favorable - low of 40 Friday night so that means probably high 40's to 50 or so at race time, no rain in the forecast either.
So, I am definitely ready. My goal is to complete it in under 37:00.
[ add comment ]
( 1264 views ) |
permalink
---
[ add comment ]
( 1274 views ) |
permalink
---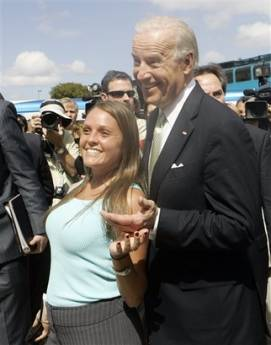 Funniest pic I've seen in a long time. lol
[ 1 comment ]
( 3544 views ) |
permalink
---
So, my check was $7 more.
Payday happened to coincide with the day my IRA statement came.
Keep the "change" coming!
It will take longer than 28 quarters to recoup my losses. Hoping, of course, that the market will come back. Given the current competence level of the executive and legislative branches of our government, one can't be too sure.
Someone emailed me this with the subject "Americans Following Obama":
...and this acronym:
OBAMA: One Big Ass Mistake America
Only time will tell. However, had the market dropped 20% seven weeks into Bush's first term*, there would've been calls for a recall or impeachment.
*DJIA was down 2%, 10686 to 10468, certainly tolerable.
[ 1 comment ]
( 1516 views ) |
permalink
---
<<
<Back
| 10 | 11 | 12 | 13 | 14 | 15 | 16 | 17 | 18 | 19 |
Next>
>>