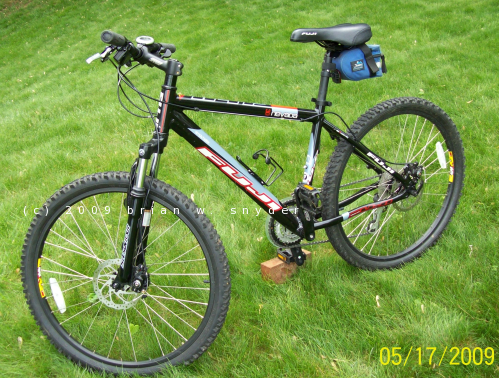 I finally took a picture of my bike. Our camera was broken and we finally got a new one. So, pictured is my bike at about 200 miles; not bad for six weeks. Likely I'll put on more as the weather warms and I am less busy. I am toying with the idea of biking in the
Bike-a-Thon Philadelphia
in July. I would need to put road tires on it to do that though. If I do enter it, I would like to try the 54 mile option. The 21.3 would be easy and require no extra preparation but the 54 would. I would like to do a smaller one 20-30 mile first as prep so maybe one day in a month or so I'll be able to get away for a few hours and try a 25 miler on my own: pack a snack, basic tools, cellphone, and vamoosh!
[ add comment ]
( 1252 views ) |
permalink
---
Providence mayor wants to tax college students
Hey dumbass, pull those universities and colleges out of town and watch your local economy go into the crapper and you'll also eliminate just about every reason anyone would want to visit your city. College students provide an enormous benefit to any area. They eat. They drink. They shop. They have friends and family who visit who also happen to eat, drink, shop, and often pay for lodging. For some odd reason, I have a feeling all those are already taxed. Let's not forget the lawyers who stay employed for the lawsuits the colleges always face - workman's comp., discrimination, etc. College students also tend to look for jobs in the immediate area of the college they attend after they graduate; who wouldn't want freshly minted BA's and BS's and MBA's and PhD's and MD's staying local? Plus, colleges provide a plethora of runoff businesses too, akin to what factories and businesses do in any locale. But, hey, if Mayor Dumdum isn't satisfied with that $1 billion a year (I think a low-ball estimate) and 9K employed and the various immeasurables, maybe some other town would be. Yes, Brown, et al, aren't going to move which is why they should all just engage in some resistance to make the mayor can this stupid idea. After all, with schools like Brown and Providence College, we can safely assume that the smartest people in town are not in the mayor's office.
Let's hope this doesn't pass. For if it does, it will set a precedent and sooner or later, most colleges will employ this shameless tactic. As if students don't have enough to pay for - tuition, which always increases higher than inflation, texts - price a textbook lately? Yikes! Plus all those hidden fees the colleges zap the students with - "technology" fees, "activities" fees, et al. It never ends. Hopefully, someone will educate and enlighten Mayor Dumbass before every town with a college has a Mayor Dumbass too.
[ add comment ]
( 1271 views ) |
permalink
---
Bike to Work Week
and May happens to be National Bike Month. So, I did it today; I biked to work. Since I just had to administer a final exam, I loaded up my backpack with the basics I needed. The commute was a mere 11.5 miles round trip which is easy, but the roads, the roads - belong to the cars. Some parts were wide enough with a shoulder and some the shoulder was pockmarked with holes and craters and eroded blacktop. I took the back way but one stretch, closest to the college, was the busiest with traffic and there was little leeway on the sides. I prefer the bike paths, for sure, but the bike path doesn't lead directly to the college. But, I did enjoy the ride - any excuse for me to get on the bike.
I plan on doing this once a week during summer - late May to early July. Good for the body. Use less gasoline; I figure about half gallon's worth, which could save me as much as $2 a week. Good to do my part for a greener earth (I do much more than bike, BTW). More people should bike to work if distance permits and, if for nothing else, to take better care of their bodies.
[ add comment ]
( 1467 views ) |
permalink
---
Slackware
12.2 but I haven't decided yet and really don't know if it's worth the effort just to use FF3. I have also toyed with the idea of going with Fedora (which now up to 6 discs unless you do the DVD or net install; I do have a DVD burner so that's what I would do) or even Ubloatu with the hopes that maybe I'll have better luck with some of the ham radio software out there that is supposed to work with Linux. Decisions. Decisions. I don't want to drift away from Slack but I what I might do is just set up another PC for ham radio and see how that goes because I really don't want to part with Slackware as my main PC's OS.
[ add comment ]
( 1404 views ) |
permalink
---
[ add comment ]
( 1235 views ) |
permalink
---
Obama criticism shuts down conversation
She brings up some good points. The right of dissent and the right to criticize seems to be so 2001-2009ish nowadays. Maybe it's apathy. Maybe it's fear. Maybe it's because people are afraid to admit they were wrong. Although, there were some protests on April 15 but the media mostly bad-mouthed those who attended the rallies as if those who attended were uninformed crazies who had no right to peacefully assemble and petition the government for a redress of grievances. [sheep bleating] Protest Bush good protest Obama bad [/bleating]. Additionally, it does seem that gaffe-a-day Biden gets his fair shake when he puts his foot in his mouth, which explains why you really don't see much of him on TV. And, he
got the boot
for his last gaffe. lol.
O
ne
B
ig
A
ss
M
istake
A
merica
There.
:P
[ 2 comments ]
( 1833 views ) |
permalink
---
Swine flu may be less potent than first feared
No kidding. Just like SARS, Bird Flu, Killer Bees, the coming Ice Age, Global Warming, and so on. *yawn*
[ 13 comments ]
( 1397 views ) |
permalink
---
Runnersworld.com
and thought it was amusing:
[ add comment ]
( 1346 views ) |
permalink
---
Obama Bows To The King Of Saudi Arabia
Boy, the gaffes keep coming. BHO and Biden must have bet going as to who can commit the most gaffes. First, it's DVD's that won't play in Great Britain in exchange for a symbolic and sentimental gift that signifies America and Great Britain's close ties and rock-solid friendship, then it's calling America arrogant, now this: an American President bowing to a foreign leader. Geez. Someone get this guy a protocol aide. His protocol aide must be the same numbnuts who went to a Wal-Mart in the States to pick-up the DVD's for Prime Minister Brown.
The media built this guy up as smart, suave, and the panacea for all that ails us. Yet, we got a President who's bound to a teleprompter, insults Americans when abroad, and gives childish gifts to foreign leaders, and bows to the leader of Saudi Arabia. Talk about a false idol.
Again, if Bush had done this - especially to a leader of an oil-rich nation - the American MSM would be all over this; citing it as proof that he's in the their back pocket. But Obama? Free pass; he's irreproachable. We built this guy up and we ain't gonna tear him down, even if his behavior abroad irreverent - which would be fine if he weren't an elected official, and not just
any
elected official, at that; he's our representative to the world.
[ 8 comments ]
( 1905 views ) |
permalink
---
update
(11pm 04/05) - I did 17 miles on the bike today. Mostly paved bike path but some gravel and some dirt and mud too. In gears 3-7 and 3-8 the chain rubs a little in the front. Getting into 3rd requires holding the shift lever a little longer but it's not anything major. Other than that, everything went fine. I didn't bottom out the fork but it looks like I maxed out around 1.25 inches or so judging by where the dust ring begins. I like it. My legs are sore. When I do a 30 or 40 miler this summer remind me not to do a 5K the day before.
[ add comment ]
( 1684 views ) |
permalink
---
[ add comment ]
( 1684 views ) |
permalink
---
Obama's DVD gift to Brown - it's the thought that counts
...pretty lame gift, especially from one who's supposed to be an intellectual. Some DVD's and a few toys
for a pen holder carved from the timbers of the sister ship of the one the White House desk is made from and a first edition of a seven-volume biography of Winston Churchill, the Mail is appalled that "Barack Obama, the leader of the world's richest country" gave Brown a box set of 25 DVDs
and
giving the Obama's daughters Top Shop dresses (with matching necklaces)
If Bush had committed this egregious gaffe CNN, MSNObama, ABC, and CBS would have covered this 24/7 and ranted on how he insulted our biggest ally. All news about the economy would have been tabled so as to stoke ire in the American people about a president who thinks only of movies and toys. But, since this was Obama, there was very little mention by our ass-kissing, tingle up my leg, inept, incompetent, and feeble media.
Oh, and by the way,
THE DVDS DO NOT WORK IN GREAT BRITAIN
.
IF BUSH HAD DONE THIS WE WOULD HAVE HEARD ABOUT IT FOR 60 DAYS STRAIGHT.
[ add comment ]
( 1491 views ) |
permalink
---
<<
<Back
| 10 | 11 | 12 | 13 | 14 | 15 | 16 | 17 | 18 | 19 |
Next>
>>