http://twitter.com/bws53
[ add comment ]
( 1132 views ) |
permalink
---
Providence Business News
:
Cold, rain cut N.E. electricity demand
Since AGW causes cooler temperatures, rain, and pretty much anything that used to naturally occur (hence the need for the repackaging of the terminology to Climate Change as a CYA; when something doesn't sell, repackaging sometimes helps), we can logically conclude that global, er, Climate Change has cut electricity consumption in N.E.
However, it may cause my electric consumption to increase. Given that it was 74/54 yesterday (avg. is 83/62), I may have to start turning on the heat at night.
Where Has Summer Been?
Since June 1, Boston has only seen four days above 80F. Wow. Locally, we're a little better; three so far in July and eleven in June; June 16 is the first day where the average high should be 80 and we've only seen 80 or better eleven days since.
[ 7 comments ]
( 2220 views ) |
permalink
---
FOUND
Local man, and father of three, has been missing since 06/29/09. more information: finddonlynch.com
[ add comment ]
( 1150 views ) |
permalink
---
Cell
has given me interest in the that genre. The campus library doesn't have any books by Neal Stephenson, a "god" as one of the characters (a kid) in
Cell
says, so I checked out
Holy Fire
by Bruce Sterling. If I like it, I may continue on with cyberpunk. Being somewhat of a technophobe, I may like (or may not, lol) some of this stuff. I've read a good bit of classics over the years and now I it looks like my reading may shift gears a little.
My technophobia is necessarily not a fear of technology (I would not characterize myself as a Luddite) but rather a fear of what people, average people and people in power, including, governments, will do with it and the inevitable overdependence people develop. And, yes, I know, I myself am guilty - I like the Internet, computers, electricity and running water to my home, automobiles, etc. That being said, I don't own a GPS device (a cell phone is close and can track you but not like GPS although many have that feature available now) because it's all too creepy and completely unnecessary; at least for most average people. Maps and a basic knowledge of the US highway system are good enough and, well they used to be at least, idiot-proof. Ok, I'm going off on a tangent too much here. This topic best served for another day.
By the way,
Cell
is the first Stephen King novel I've read. It's an easy read and does pretty well in the horror category.
[ 5 comments ]
( 1794 views ) |
permalink
---
[ add comment ]
( 1139 views ) |
permalink
---
This time, it also took out a laptop PC and the PCI slots on the motherboard of my main PC along with the NIC. Good cards no longer work in any PCI slot so now I have to to use the onboard LAN. Of course, everything, save the router, was plugged into a Belkin surge protector, which still works. The router shared an outlet with my PC speakers, which still work too. Lightning is funny and I don't mean ha-ha funny.
[ add comment ]
( 1774 views ) |
permalink
---
Currently, the average price of gasoline in the U.S. is $2.60. In the third week of January of this year, it was $1.813 per gallon. That is a 43.4% increase.
Whereas it took Bush over four years to hit that percentage increase (March '05), BHO has done it in less than five months! He does work miracles! Alleluia!
source
[ add comment ]
( 1534 views ) |
permalink
---
That's right
.
From
Frank Strategies
:
So, like we learned in
Animal Farm
that four legs is good and two is bad, we have been so instructed by Obama's
Pravda
* that doubling the unemployment rate is good too.
*the 1918-1991 version
[ add comment ]
( 1262 views ) |
permalink
---
[ add comment ]
( 1157 views ) |
permalink
---
Running a 5K on Memorial Day gives one time to remember and reflect, which I made sure to do. Memorial Day seems to have lost some meaning which is why I agree with this
editorial
. I think a fixed date is more of a sign of respect than a flexible date that is meant to give us a three-day weekend.
I don't know what men and women who have died in combat would want us to do on this day. I think that many of them would like us to like our lives as we do and be thankful for what we have. So it's ok to picnic and enjoy time with friends and family, as long we do not forget them and be grateful for what we have. Often, I think more of the families of the fallen; the void in their lives, the hardship; the grief. I made sure to take time to reflect on that as well.
Update
- the official results have been posted online and they have me at 33:28.55. Looks like for my next 5K I will have to strive for breaking 33:00.
[ add comment ]
( 1252 views ) |
permalink
---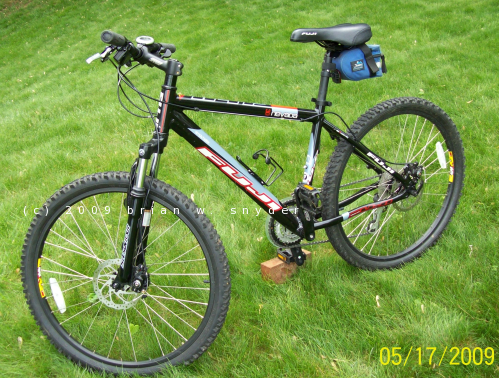 I finally took a picture of my bike. Our camera was broken and we finally got a new one. So, pictured is my bike at about 200 miles; not bad for six weeks. Likely I'll put on more as the weather warms and I am less busy. I am toying with the idea of biking in the
Bike-a-Thon Philadelphia
in July. I would need to put road tires on it to do that though. If I do enter it, I would like to try the 54 mile option. The 21.3 would be easy and require no extra preparation but the 54 would. I would like to do a smaller one 20-30 mile first as prep so maybe one day in a month or so I'll be able to get away for a few hours and try a 25 miler on my own: pack a snack, basic tools, cellphone, and vamoosh!
[ add comment ]
( 1252 views ) |
permalink
---
Providence mayor wants to tax college students
Hey dumbass, pull those universities and colleges out of town and watch your local economy go into the crapper and you'll also eliminate just about every reason anyone would want to visit your city. College students provide an enormous benefit to any area. They eat. They drink. They shop. They have friends and family who visit who also happen to eat, drink, shop, and often pay for lodging. For some odd reason, I have a feeling all those are already taxed. Let's not forget the lawyers who stay employed for the lawsuits the colleges always face - workman's comp., discrimination, etc. College students also tend to look for jobs in the immediate area of the college they attend after they graduate; who wouldn't want freshly minted BA's and BS's and MBA's and PhD's and MD's staying local? Plus, colleges provide a plethora of runoff businesses too, akin to what factories and businesses do in any locale. But, hey, if Mayor Dumdum isn't satisfied with that $1 billion a year (I think a low-ball estimate) and 9K employed and the various immeasurables, maybe some other town would be. Yes, Brown, et al, aren't going to move which is why they should all just engage in some resistance to make the mayor can this stupid idea. After all, with schools like Brown and Providence College, we can safely assume that the smartest people in town are not in the mayor's office.
Let's hope this doesn't pass. For if it does, it will set a precedent and sooner or later, most colleges will employ this shameless tactic. As if students don't have enough to pay for - tuition, which always increases higher than inflation, texts - price a textbook lately? Yikes! Plus all those hidden fees the colleges zap the students with - "technology" fees, "activities" fees, et al. It never ends. Hopefully, someone will educate and enlighten Mayor Dumbass before every town with a college has a Mayor Dumbass too.
[ add comment ]
( 1271 views ) |
permalink
---
<<
<Back
| 9 | 10 | 11 | 12 | 13 | 14 | 15 | 16 | 17 | 18 |
Next>
>>