Clinton faces new GOP attacks ahead of her speech
In the article, Hillary says "I'm Hillary Clinton and I do not approve that message."
Well, too bad, Hillary, you said it so if you disapprove of it, then you are only disapproving yourself.
Poor Hillary. First, I believe she is more qualified than BHO to be president and second, I firmly believe that had she entered the race in '04, even if late, she probably would have won the election. She completely underestimated BHO and even she could not have predicted that the MSM would switch the lettering on their cheerleading uniforms from "HC" to an "O".
[ add comment ]
( 1320 views ) |
permalink
---
9-Year-Old Boy Told He's Too Good To Pitch
Of course, if a league told a kid he wasn't good enough to pitch - instant lawsuit!
People have learned that if someone is smarter/more athletic/more successful than they are, then instead of taking initiative to overcome the challenge, they take measures to punish the people who have set the bar higher. They have been told, often by certain politicians, that if Person X is smarter than you or has a bigger house than you do, then it's not your fault, and you've been discriminated against in some way. Telling you that you need to work harder or that sometimes the cards don't play in your favor is political suicide. When a politician implies this, he/she is often branded a meanie.
As discussed on the previous post, some people are just naturally gifted at some things - be it sports or academics, and those people need to be encouraged, not suppressed or neutralized.
It just seems that everything is bass ackwards in our society. We punish the good and those who aren't good are told it's not their fault and we try to make them feel good by instilling punishment on the good then we wonder why such a high percentage of kids who graduate from US high schools can't read or write beyond a 6th-grade level or that many young adults don't seem to be motivated anymore to do better. Society can't produce competent adults if we continue to tell the best and brightest that they are too good at something and need to slow it down, literally in this case, so that others feel good.
Competition has become another "C" word.
[ 1 comment ]
( 1883 views ) |
permalink
---
2 - number of times this summer I paid more than $4 for a gallon of gas; both involved our trip to Canada. We bought just enough over the border to cover the trip back into the US. We paid $1.249/L in Canada and $4.17/G off I-81 near Watertown, NY. The stations all near my house never topped $3.99.
5 - when I went to donate blood last week, I found out I had passed the 5 gallon plateau.
7 - number of Iron Pigs games I went to this summer. Their record in those seven games: 0-7.
7.3 - Unemployment rate in Illinois, BHO's home state. Unemployment in AZ is 5.1%.
8 - Micheal Phelps; simply amazing; proof that hard work and determination yield results.
14 - the over/under number, in seconds, after the Olympics end how long it will take someone from the MSM to blame Bush if China finishes with more medals than the US. However, it looks like China will finish with more gold so you'll see some BDS in action regardless.
21 - number of plants in my garden; 12 tomato, four jalapeno, four anaheim chili, and one pumpkin. Plus, I have two rogue tomato that popped up and have tomatoes on them. I planted 11 sunflowers but the deer got some so I ended up with four.
26 - number of pounds down since January I was at my morning weigh-in today. I continue to exercise daily and watch my diet but I am not losing weight as quickly as before. Maybe am building muscle.
162 - number of 90F+ days recorded at Chicago's Midway Airport from 2000-2008: "
the fewest 90-degree temperatures in the opening nine years of any decade on record here since 1930
"
571 - number of miles since April I have biked according to the cycle computer. It broke three weeks ago so I am likely close to 700 by now. My goal is 1000 from April through September.
[ 11 comments ]
( 2248 views ) |
permalink
---
Midwest floods show signs of global warming
Corn harvest predicted to be second-largest ever
[ 1 comment ]
( 1423 views ) |
permalink
---
The announcement came at 10:48 EDT and the DJA began an unprecedented plummet, dropping as much as 4000 points before closing at 8237.19, off almost 3000 points (26%), after the SEC shut down all trading at 11:33 am EDT. Other still-open world markets experienced similar drops as the ripple-effect has still to take hold because major markets like Hong Kong and the Nikkei were already closed. Officials have announced a delayed opening for both those markets tomorrow with hopes of letting some of the initial turbulence subside. There has been no word yet on whether the DJA will be on a delayed opening or be closed completely tomorrow.
As expected, the price of oil soared as well; jumping from $96.22 a barrel to over $200 a barrel before officials closed that market as well with a record-shattering price of $211.02 a barrel. Other commodities markets closed early as well, leaving every major stock and commodities market in the world shut down and many appear reluctant to reopen until some dust settles.
Customers at the pump also felt immediate pain. Reports of gasoline jumping $3/gallon were not uncommon. "I drove by the station on my way to the hairdresser and it was $2.92/gal" said Mamie Alderfer, 58, of Sherman Oaks, CA, "and when I saw it an hour later, it was $6.06/gallon." Javier Rosado of Evanston, IL, said that the station pumps actually raised the price while he was filling up. "the first four gallons cost me $2.99 each but the last 12 cost me $5.95 each" Rosado said. There have also been scattered reports of gasoline topping $8 a gallon in San Francisco and Boston. Aside from huge price leaps, widespread reports of vandalism targeting gas stations were seen. In Detroit, an Exxon gas station was riddled with bullets, injuring two, and in Los Angeles, a Conoco station was attacked by what eyewitnesses called "a swarm of people with torches" and lit the structure on fire; no injuries were reported and firefighters quickly doused the blaze. Officials in both cities were reluctant to say if these acts were results of today's news.
Shares of ExxonMobil were down 81% when trading ceased this morning, producing the just the opposite effect by deflating many 401(k)'s and IRAs rich in ExxonMobil and other oil companies' stock. Since stocks in general were down, most people felt a significant blow to their portfolios as well. Edward Stanwyx, of Euclid, OH, was ready to retire tomorrow: "I just signed all the paperwork with my advisor and was ready to start collecting from my IRA when this happened" said Stanwyx, 60. "Suddenly, my funds dropped several hundred thousand dollars and my monthly payment will now be half of what I expected. Even if I am one of the lucky recipients of Exxon's giveaway, it will not make up for the lost investments."
"We wanted to show the world what would happen if we didn't make a profit. They have gotten their wish. Since many people think we have money to burn, we decided to burn all our money" ExxonMobil released in an official press release just minutes ago. There has been no truth to the widespread rumors that ExxonMobil has also decided to dissolve immediately and sell its assets to Royal Dutch Shell. PetroChina is also rumored to be interested in the assets if ExxonMobil dissolves. Officials at all three companies refused comment.
"I knew this was a bad move from the start" Barack Obama said earlier today. "I vow to crack down on this corporate irresponsibility. They have an obligation to their employees and this nation to manage their affairs properly" Obama said today. "This wanton recklessness and schadenfreude has deflated our robust economy, ruined the investments of hard-working Americans, and put America's national security in peril" Obama said.
[ 1 comment ]
( 1415 views ) |
permalink
---
replacing
an American flag on the tail of his airplane with his campaign symbol.
Of course, if John McCain did this, there would be a call for public "McCain symbol" burnings throughout the land. But, since McCain supporters are more refined, they will not stoop to an "Obama symbol" burning call.
To be fair, McCain's plane does not have a flag on its tail either. However, the point here is not whether or not the presumptive candidates have flags on the tails of their campaign planes but that BHO REMOVED an American flag and replaced with his campaign symbol. This is a sign of arrogance, entitlement, and a "me first" mentality. I will leave it at that for obvious reasons.
[ 4 comments ]
( 1302 views ) |
permalink
---
paid this past quarter
. For every dollar pocketed, they paid three in taxes.
[ 7 comments ]
( 1735 views ) |
permalink
---
We did an Alexandria Ghost Tour which was excellent. I don't believe in ghosts but those types of tours are always entertaining and give you a good history of the area. Alexandria is a quaint town with some good restaurants along King St. If you're ever there, I highly recommend Cafe Salsa for some Cuban and Puerto Rican type fare.
We did go into DC for an afternoon and then went to the Nationals game at night. Since I had last been to DC, the WWII Memorial had been built so we got to see that and, since it's so close, we walked over to the Lincoln Memorial, which is my favorite of the DC memorials. I took some photos and I will probably post some on the Web once I get to it.
We did very little driving once there. We took the hotel's shuttle to King St. one night and then walked back to the hotel. For our trip into DC, we did the Metro (took a taxi back from station to hotel at night), which as you know if you've ever been on it, is very well run and very convenient to use. A one-day rail pass is only $7.80 too so it's economical as well as eco-friendly.
[ 2 comments ]
( 1295 views ) |
permalink
---
America on Wheels
museum so we ventured into Allentown to check it out yesterday. The museum features cars, bicycles, motorcycles, trucks (heavy on Mack, as expected), and even has some odd stuff like a bar-stool racer, a Segway, and a lawn-tractor racer. The muscle car exhibit on the second floor was impressive with some beautiful and rare cars. As expected, there is an historical overtone that helps one understand and follow the progression of wheeled-transport in America over the past 120 years or so. I didn't know that early in the 20th century, there were quite a lot of electric car manufacturers but the museum credits (blames?) Henry Ford for doing away with those by making affordable and reliable automobiles running on cheap and plentiful gasoline. The museum also has some futuristic themes as to what we may be using as fuel in 20 or 30 years with, perhaps, Air Products leading the way as a major hydrogen producer. At $7 admission for adults, it's less than a movie and much better for your brain.
After the museum, I thought a trip to Willy Joe's at 15th and Liberty would be in order. They were closed, again. What's with them being closed on Sundays and, like last year, the Saturday during Memorial Day weekend? Bah. We opted for the Yocco's on Catasauqua Road since it was on the way home. Great dogs, just as good as Liberty St. or Hamilton Blvd.
[ add comment ]
( 1298 views ) |
permalink
---
Face the Nation
that, if elected, he'll serve
8-10
years. Imagine the laughter if "crazy old coot" John McCain said this?
Interestingly, in the 109th, 108th, 107th, 105th, 104th, and 103rd Congresses, amendments were proposed* (in 109, 108, and 107 they were introduced by MD Rep.
Steny Hoyer
) to repeal the 22nd Amendment. There has been no bill in the current (110th) Congress to repeal it. If Steny proposes another bill and if it clears all the hurdles and passes, it is possible that BHO will serve three terms which, of course would be 12 years, not 10, if he's elected and the 22nd Amendment is repealed during his first or [if elected to a] second term. Since it seems unlikely that the 22nd Amendment will be repealed, let's cut him some slack and count 2008 as one year and add that on to a two-term presidency, that makes nine. But wait, silly me, if we take the mean of eight and ten, lo and behold, we get nine! Once again, BHO dazzles us with his repartee!
*Go to this
link
and type 'repeal 22nd' in the search box and be sure to check all.
[ 1 comment ]
( 1758 views ) |
permalink
---
© 2008 Universal Press Syndicate All Rights Reserved.
...no problem if you have the media to carry you along, that is. I saw this comic in my local paper a few days ago and it's oh so true. It's amazing how the media goes gaga over Obama. His gaffes like saying he's visited 57 states or that 10,000 people died in a Kansas
tornado
, or that Arkansas is
closer
to Kentucky than Illinois or that his uncle helped liberate Auschwitz (the
Russians
found Auschwitz) go almost completely without notice from the media or, if they are noticed, they cover for him quite nicely. Imagine if McCain had claimed to have visited 57 states or that a myriad of people died in a tornado when, in fact, it didn't happen. It would be horns-a-blowin' and trumpets-a-blarin' about how clueless the man is. But, BHO has an unlimited amount of get out of jail free cards that the media always plays when he gaffes or shows his obvious inexperience on domestic and foreign matters.
Additionally, associations with nutjob Rev. Wright or domestic terrorist William Ayers or crooked Tony Rezko certainly should lead to a debate about his choice of acquaintances, but it hasn't; like the Dan Quayle-like gaffes, a free pass is issued by the press.
But, people want change, I suppose, never thinking that change can be negative as well as a positive. So, I ask people, what do you want to change? Less corruption and cronyism in Washington? Well, Obama's connections to some questionable individuals make that unlikely. Someone who is intelligent? Well, forgetting how many US states there are or hyper-inflating a recent tornado's death toll do little there, too. You want a better life for yourself? Then work harder, smarter, and challenge yourself by setting goals. Seek out government programs that help you find a better job or further your education, not just ones that give you a check and say "here you go, see you next month." From personal experience, I can say that my quality of living is more dependent on my actions than who the president is.
Nonetheless, since the media will carry Obama into November, we need not worry about his gaffes or choice of friends. The media will toss those into the ol' memory hole. Nothing to see here, move along, and when you see that man carrying Obama down the racetrack, get out of their way.
[ 3 comments ]
( 1018 views ) |
permalink
---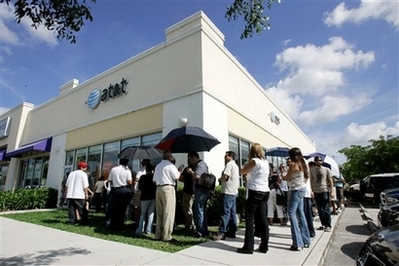 (AP Photo)
Certainly anyone who lived through the Great Depression and may have had to wait in lines for hours at a time for petty things like food or a job must be shocked at how bad this economy is today. People who are younger like me and the generation before me will remember the gas lines of the 70's and the odd/even purchasing system and the double digit inflation during that same time. But seeing that picture above of that line in Miami, well, I never thought things would come to this.
I think someone in the media should poll some of those people wait in those lines for toys like iPhones or PlayStations and ask them who they think should pay for their health insurance or what they think of $4.15/gallon gasoline. Sure, they may say that the government should cover their health benefits or they may say ExxonMobil is evil but they have no problem reverse-cadging Apple and AT&T and handing them their money, but, hey "I want an iPhone. Gimme gimme gimme gimme. Let the government pay for my health care, I just spent my monthly premium on an iPhone. I can't afford to fill my car but I can afford an iPhone and monthly service contract."
Nonetheless, people certainly have the right to spend their time and money as they please. I just don't get it, though. All levels of government do a good enough job taking my money and the best part is that I don't have to wait in line for them to do it.
If you are one of those who do wait in lines for gadgets, just take a moment to think and be thankful that today in America,
images like this
, only exist in statues.
[ 9 comments ]
( 1568 views ) |
permalink
---
<<
<Back
| 15 | 16 | 17 | 18 | 19 | 20 | 21 | 22 | 23 | 24 |
Next>
>>