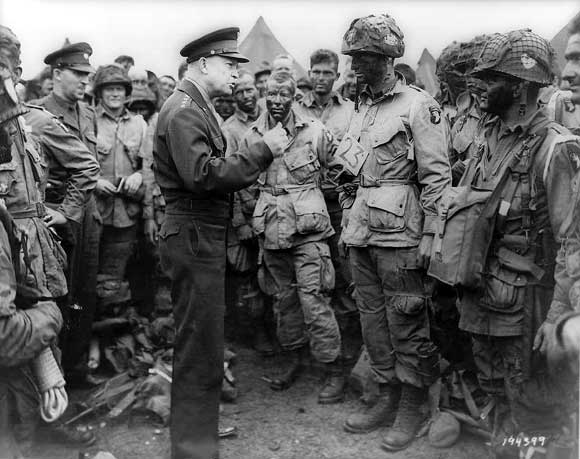 As Ike addresses these men from the 101st Airborne Division, many thoughts must be going through their heads. I can assure you that one thought
not
going through their heads is wondering if any
seditionous weasel
in Congress will announce to the world that the war is lost if any part of their objectives are not met.
Let us not forget that bloody day on June 6, 1944. Let us not forget the many bloody days that both preceded and followed that day. Let us not forget the men, perhaps some men in this picture, who gave their lives so that others may have opportunity and hope.
Let us not forget that this was not FDR's war, it was our war. "FDR's war" sounds silly doesn't it? It sounds silly today too with another name inserted in there.
Let us not forget the spectacular display of military and industrial might, the likes of which had never been seen before or since, that our great nation put on in the months following June 6th. Let us never forget what we are capable of when we work together for a common goal.
[ 1 comment ]
( 1347 views ) |
permalink
---
<<
<Back
| 19 | 20 | 21 | 22 | 23 | 24 | 25 | 26 | 27 | 28 |
Next>
>>