This was the original stove in the house and, thus, dates back to 1974. It's a Hotpoint drop-in.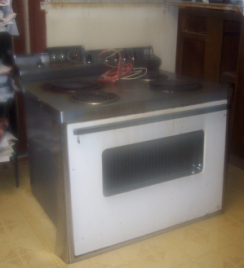 A beauty, eh?
Here's a view of the top.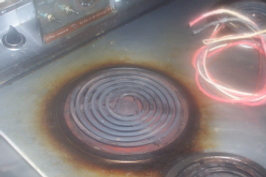 Sure, lotsa wear and tear and although it looks like crap, it still works. An element burned out and, although I replaced it once before, we feel it's time to upgrade; mainly due to the 'it looks like crap' aspect. The last remaining 'built to last' appliance in the house is a GE dishwasher that dates back to 1984. A few years ago we replaced the Kenmore garbage disposal which dated from 1980 and the previous owners had left the receipt for that; cost: ~$15. They left the DW receipt here too and I think that was around $600. In fact, even though we are the third owners of this house, we have almost all the manuals and accompanying receipts for everything. The first owner passed on most of the manuals and accompanying receipts to the second owners who passed them on to us. I can't overstate what a nice gesture that is.
Now that I think about it, there is another quality relic in the house - a Sears toilet in the downstairs bathroom. I had to fix a leak once and remember seeing that inside the tank the code 'M33AUG 4-77' is stamped; and that code is actually stamped, not inked, into the tank on the inside. I have replaced the other two toilets since we've been here.
I am sure I'll like the new range, even though I'll probably have to RTM in order to figure out how to bake something for 45 min @ 350; heck, probably have to read it to figure out how to boil a pot of water.
As for an over/under of 34, take the under.
[ add comment ]
( 1213 views ) |
permalink
---
<<
<Back
| 19 | 20 | 21 | 22 | 23 | 24 | 25 | 26 | 27 | 28 |
Next>
>>