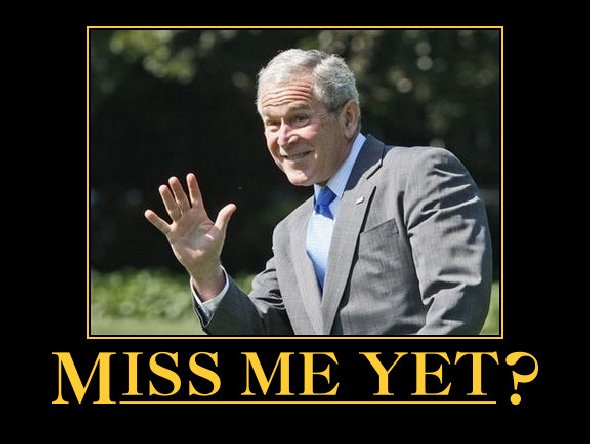 Maybe not a great, nor even good president, but the Bush years were pretty good. Sure, the media was pretty upset about the 2000 election and even moreso at the 2004 election, but Bush never wavered and, unlike our current prez, never declared war on those who disagreed with him or his policies.
Frankly, I still think it's more than a coincidence that the "economic meltdown" started shortly after McCain's announcement of Palin as a running mate and the bump that put him even with Obama in the polls. Someone **cough** **cough** Soros **cough** **cough** panicked and pulled a lot of strings. I think time will tell that what happened in September 2008 was an October surprise that got well out of hand.
Dubya, things were good during your tenure. With all the crap you took and all the things you did wrong, we did pretty well overall. Even with the inept congress that took office in 2006, the ship held together quite well - until it was sabotaged.
Am I conspiracy nut? Maybe, but no worse than those who blame <insert world problem here> on Bush.
[ add comment ]
( 1260 views ) |
permalink
---
<<
<Back
| 6 | 7 | 8 | 9 | 10 | 11 | 12 | 13 | 14 | 15 |
Next>
>>