So, I need to keep on keeping on and see if I can knock another five pounds down. If I make -25 that would put me at a weight I haven't seen since around 1990.
[ add comment ]
( 1400 views ) |
permalink
---
- Aldous Huxley
[ 1 comment ]
( 1449 views ) |
permalink
---
column
yesterday:
The green left understands that the direct route to government control of almost everything is to stigmatize, as a planetary menace, something involved in almost everything -- carbon.
Orwellian, for sure, and although Orwell doesn't explain how Big Brother came to power, I doubt this was how he did. Even Orwell could not have envisioned this route to a "license to intrude."
[ 1 comment ]
( 1352 views ) |
permalink
---
*This is highly odd for me as I tend to be obsessive-compulsive about things like that; doors locked, things that need to be tightened actually being tightened and fastened correctly, pen caps on, closet doors closed, oven off, coffee maker off, efficient refrigerator organization, newspapers neatly stacked before being bundled, money organized by denomination and facing the same way, etc.
[ add comment ]
( 8454 views ) |
permalink
---
[ 3 comments ]
( 1317 views ) |
permalink
---
...
for NW Kansas.
May blizzard shuts down parts of S.D.
Blizzard warning for NE Colorado
.
[ 9 comments ]
( 1669 views ) |
permalink
---
I had nothing important to radio in but I did get to meet both Congressman Dent and Mayor Pawlowski near the platform at the starting line. I chatted with Hizzoner for a few minutes in some light banter - the demands people put on the mayor, the Iron Pigs, and how the residents at 18th and Linden might enjoy being woken up on Sunday at 8:00 am to the sounds rock music and then a fire truck's siren that starts the runners. After he did his duty to get the race started, I asked him "Yocco's or Willy Joe's?" He responded with a quick "Yoccos" like it was a no-brainer and we shook hands and I wished him a good day.
Speaking of Yocco's, once we were done, some metaphysical force pulled a few of us into Yocco's on Hamilton Blvd. Once again, outstanding; the Hot Dog King reigns supreme over the region.
[ add comment ]
( 1442 views ) |
permalink
---
Here
is my letter to the editor about this, published on 04/16/05 in the
Morning Call
.
[ add comment ]
( 1334 views ) |
permalink
---
Reason Magazine
, May 2000.
Some of the those early earth day activists really made some bold predictions about famine and civilization ending within 30 years that never materialized. But, alas, we can't fault the activists because they were citing scientists. Ah, such wacky times, the seventies were. The next generation or two will find it equally entertaining 30 years from now to reflect back on the balmy prophecies that were made in the first decade of the 21st century. Oh wait,
this time it's real
. We can't possibly be wrong.
Instead of planting a tree this earth day, I need to save one. One sprouted up in my garden, just inside the fence, last year and I need to move it. The sapling is about six feet high now. I had planted a few trees a few years ago but I couldn't keep them from the deer. I tried but to no avail but this one is tall enough now that it should be safe. Deer truly are a problem in PA and managing them is a contentious issue. I am currently reading
Deer Wars
which discusses this concern.
Today is also primary day here in PA. I will cast a vote for John McCain today, just as I did in the 2000 primary.
[ 7 comments ]
( 1391 views ) |
permalink
---
chart
shows the bands and privileges). I still haven't bought a base station yet but my dad is going to loan me his Icom 746 in the interim. I need to buy a power supply and then set up an antenna and then I'll be ready to go.
[ add comment ]
( 1467 views ) |
permalink
---
Home ownership in the U.S. is 67.8 per cent; higher than it was in the 'prosperous' years of '98, '99, and 2000.*
Home ownership has 'fallen' 3/10 of 1 per cent during this current housing 'crisis.'
...if the numbers
George Will
gives are correct, that is, and I have little reason to doubt him. Today's column is right on the money. We have it so good nowadays that when we hit a little bump, the media panics, blames Bush, and rallies behind their candidate, Obama, and push the message of hope and change; without, of course, really saying what that means.
If people have to work a little harder, maybe cut some expenses, or postpone 'retirement' from 59 to 62, everyone panics and presidential candidates tell us that we have it so bad and the only solution is voting for 'change' - instead of instilling change in ourselves with our habits. To me, 'change' isn't voting for Obama, it's making the needed adjustments to live your life. So, if you buy something you can't afford, eventually it will catch up with you. If you have to put off buying that new car or can't take a family vacation this year, or have to delay retirement a few years, so be it. That not is not hardship. It's called dealing with it. It is not a sign of a crisis. If anything, it's an indicator of how good we have it.
*
Census Link
that covers through 2007.
[ 4 comments ]
( 1269 views ) |
permalink
---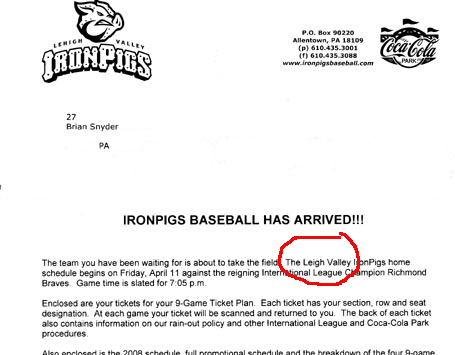 Oops! I meant to buy tickets for the Lehigh Valley IronPigs, not the Leigh Valley IronPigs!
[ 1 comment ]
( 1478 views ) |
permalink
---
<<
<Back
| 18 | 19 | 20 | 21 | 22 | 23 | 24 | 25 | 26 | 27 |
Next>
>>